Unified Communications
Stay connected! Ensure your colleagues and customers can contact you wherever you are.
Utilising Northways unified communication and collaboration platform ensures you get the best possible end user experience by providing you with one single web interface to manage all your internal and external communications across multiple channels. You are no longer tied to a desk to manage your work, each user gets access to the same information on any device.

Why should you be choosing a Unified Communication platform?
Full enterprise phone solution
Access your calls from anywhere on any device
Mobile apps available (Android, iOS and apple watch)
Built in chat - for connection to colleagues and website chat integration (kite)
Desktop sharing and remote control
CRM integration
Real Time presence information
Call reporting
With the new Unified Communications offering, users can now make and receive calls via:
iPhone and Android Mobile Apps with push notifications
Browser-based Chat, Audio,
Video, Desktop Sharing
Traditional desk phones
ANYWHERE. ONE NUMBER. ANY DEVICE.
Each user can have up to 10 devices registered to their extension. If you're in the office you can use your desk phone, if you working from home you could use the smartphone app or the web collaboration page.
Whichever device you decide to use you will still have access to your phonebook, call history, voicemail, chat etc. When you dial out from any device they will all present your work phone number and customers can contact you wherever you are/ which ever the device.
Web Collaboration Features
Wildix Collaboration web interface offers a customizable view of colleagues, grouped by work teams, and provides real-time presence information of users. Its an ideal way to enable staff to work from home with no extra expense of a new phone.
Communication with one or more colleagues from the same web interface:
audio & video call
chat
presence & geolocation
conferencing
memo messages
fax & SMS to one or more users
access to corporate phonebooks
screen sharing & file transfer
audio & video calls / conferences with external users
Mobile Apps Features
Wildix Collaboration Mobile Apps offer the Unified Communications features of your enterprise PBX on your iPhone, iPod Touch, iPad and Android smartphones.
Calls via VoIP or GSM to all contacts in the phonebook
Video calls to users
Mobility callback service
Chat
Post-It
Chat and call history
File exchange
Users' presence information and geolocation
Sync with Microsoft Exchange, Outlook, external databases, MySql, MS SQL, CRM
Mobile SIP Client on WiFi, 3G-UMTS, 4G-LTE networks, G.729 and H.264 codecs
Encrypted HTTPS connection to the PBX
Apple Watch notifications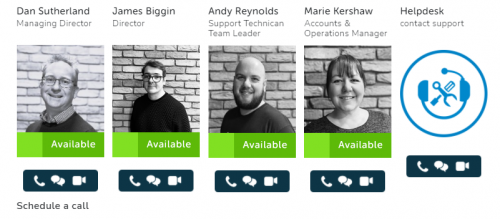 Website integrations
Wildix is the only PBX system that allows web visitors to call you, start a text or video chat, share documents, and file transfer…directly from your website.
WebRTC Kite uses the most updated and secure WebRTC technology for direct two-way communication with your web visitors.
WebRTC KITE by WILDIX integrates your PBX with your website, ensuring you'll never miss a call and allowing you to increase your conversion rate. Your customers can start a real-time conversation, via chat, audio or video to exactly the right person wherever they are.
The presence information of your extension is displayed real time on your website allowing your customers to see your availability.
Security
Traditional PBXs and UC&Cs require the addition of SBC and VPN infrastructures to work remotely: they are barriers that protect your system from cyber attacks and external viruses.
Wildix is secure-by-design: it does not need SBCS or VPNS: voice and data are ALWAYS protected because it is created with a native encryption system.
Wildix Unified Communications & Collaboration solution ensures the best user experience by providing you with one single web interface to manage internal & external communication across multiple channels including
System Management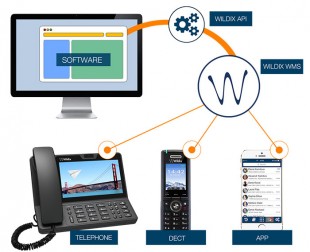 WMS is the administrative interface of PBX and Unified Communications
The web interface is integrated into the Wildix PBX and does not require any installation.
It's entirely web-based and available in the browser on any OS: Windows, Linux, Mac OS X. No client / software installation.
Time savings on devices configuration thanks to Wildix auto-provisioning: configure one or many devices at a time, with just one click. Add, manage, update both on-site and remote devices belonging to your Wildix system, assign phones to users via a single web interface.
Fast import of users & contacts: LDAP, Active Directory, Exchange Server, MSSQL, MySQL, Google, Office 365.


Multi-site Support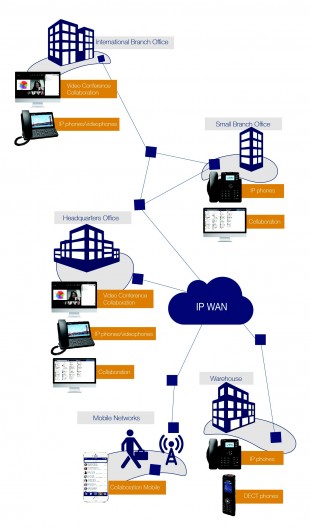 You can connect your PBXs, even those located in different cities and countries, via WMS Network – the network of intra-company communication in order to create one seamless and transparent communication environment in all the offices of your company.
In a Wildix Network, one PBX takes up the functions of the Server PBX. All the updates taking place on any Client PBX, become first known to the Server PBX and then, in real-time this information is passed to all the Clients.
Wildix WMS Network cancels the distances between different sites of the company and enables all the users in different offices to collaborate as if they worked in the same office.
It is quite common for a company today to have branch offices all over the world. WMS Network allows centralized management, maintenance and update of all the users of the system (no matter which country they work in). All the system services are available at each site.
With WMS Network communication between users is free of charge (except for the Internet connection costs). Each user can connect to the system from any office of the company keeping the same internal number and account settings.
A new user added to the system is immediately visible and can be contacted by all the colleagues.
By choosing Wildix you choose a complete solution: Fax Server and Failover are by default integrated into Wildix phone system without any additional licenses.