Overview
Our goal is to provide users with a smart but simple, intuitive system that does what you need when you need it.
There has never been a better time to streamline your services and Northway Communications can help you every step of the way. We can help to future proof your business with a hosted phone system. Our systems scale from just a couple of users to large call centres.

With first class UK support at your fingertips we can help you online, on the telephone and remotely via your PC to quickly and easily deliver customer service that matches your needs.
The functionality of our systems is really second to none with true Unified Communications we can provide traditional desk phones, smart phone apps and desktop calling enabling you the flexibility to run your business without worrying how your customers can contact you.
Why choose Northway?
Northway will take you through every step of the way in helping you choose the system that is best for you, configuring and then deploying your system. Our systems are fast to deploy and easy to scale, so if your requirements change over time your phone system can grow with you up to thousands of users.
There is no on site system required. Gone are the days of traditional phone system boxes on the wall, our systems are hosted in resilient data centres providing you with the peace of mind that your system stays online.
Connect from any suitable broadband connection
No onsite hardware
Easily scalable
No ongoing maintenance costs
Fixed monthly fees
Full unified communication solutions available
Ability to use desk phones, mobile apps and desktop applications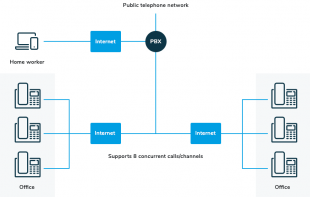 As a Wildix Gold partner we can provide customers with industry leading technology. Wildix is a true leader in web based voip PBX's. They were the first provider to introduce WebRTC calling and have won numerous awards worldwide.
The first 100% secure, easy-to-use, professional web-based UC&C system